The Sweet Sixteen
The list of sweet sixteen books is made up of books that were checked out the most from our library during the last two years. Vote for your favorites. Each week we will tally the votes to narrow down the list of contestants until only one remains. The remaining book will be our 2017 Book of the Year.
Your Prediction for 2017 Book of the Year
If you turned in your March Book Madness bracket picks before 4:30 p.m. on Friday, March 17th, you qualified for a chance to win. If you predicted the winning book, you will win the grand prize. The grand prize is a free 3D printing project of your choice. We will print any 3D object you want that our 3D printer can print as long as it takes less than five hours to print and meets the library's guidelines.

Vote for your favorite books
The first round ballots to select the Elite Eight are due Friday, March 17th by 4:30 p.m.
The second round ballots to select the Final Four are due Friday, March 24th by 4:30 p.m.
The third round ballots are due Friday, March 31st by 4:30 p.m.
The Championship round ballots are due Friday, April 7th  by 4:30 p.m.
Voting is now closed. Here is the adult champion of our 2017 March Book Madness.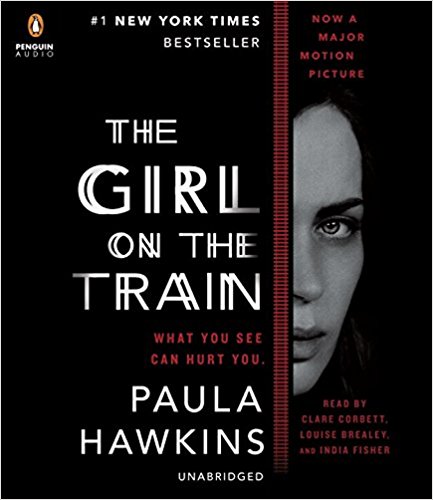 The girl on the train
by Paula Hawkins
From the book description
EVERY DAY THE SAME
Rachel takes the same commuter train every morning and night. Every day she rattles down the track, flashes past a stretch of cozy suburban homes, and stops at the signal that allows her to daily watch the same couple breakfasting on their deck. She looks forward to it. She's even started to feel like she knows them. Jess and Jason, she calls them. Their life—as she sees it—is perfect. Not unlike the life she recently lost.
UNTIL TODAY
And then she sees something shocking. It's only a minute until the train moves on, but it's enough. Now everything's changed. Unable to keep it to herself, Rachel goes to the police. But is she really as unreliable as they say? Soon she is deeply entangled not only in the investigation but in the lives of everyone involved. Has she done more harm than good?
Compulsively readable, The Girl on the Train is an emotionally immersive, Hitchcockian thriller and an electrifying debut.
This book has been checked out at our library a total of 64 times since we acquired it in 2015. That includes the print book and audio book circulations combined.
Six people filled out and turned in their brackets with the correct prediction that The Girl on the Train would be the winner. They each won the grand prize of a free 3D printing project of their choice.