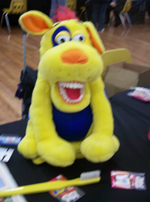 Saturday, March 7th, 2015 from 10:00 to 1:00 in the Ag Building at the Seward County Fairgrounds.
For children infants through 6th Grade
Free to the public!
Come for information, exhibits, demonstrations, give-a-ways and much more!
—
ONCEAVA FERIA ANUAL DE SALUD/DIVERSION PARA NIÑOS
SABADO 07 MARZO 2015 10:00 A.M.— 1:00 P.M.
EN EL EDIFICIO AG DE SEWARD COUNTY FAIRGROUNDS
PARA TODOS LOS NIÑOS HASTA EL 6to GRADO Y SUS PADRES
EXHIBICIONES, DEMONSTRACIONES, ACTIVIDADES, PREMIOS Y ¡MUCHO, MUCHO MAS!
¡LA PARTICIPACION ES GRATIS!