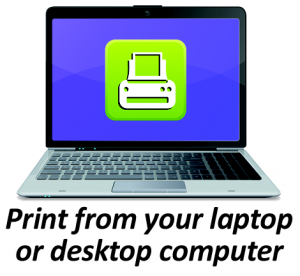 How to print from a laptop or desktop computer at home or work:
Select a printer from the drop down menu (1 – Black and White Printer, 2 – Color Printer, etc.)
Enter your email address.
Browse your computer to find and select the file you want to print or type in the address of a web page you want to print.
Click the green print icon
Wait for the Document Status to change to "Your request has been processed"
Pick up your print job at the library within 48 hours. After 48 hours your print job will no longer be available.
Your print job will be printed!