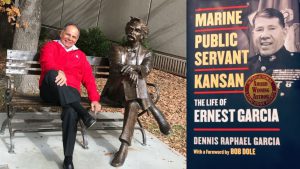 Award-winning author, Dennis Raphael Garcia is coming to the library on Wednesday, September 4th at 6 pm for a book discussion and signing.
Learn about the inspiring biography of Ernest Garcia. "Ernie" is a native of Garden City and his remarkable life in public service has taken him from the wheat fields of Kansas to the White House, and the halls of the United States Senate.
Dennis shares the amazing history of the Garcia family's immigration from Mexico in the early 1900's to southwest Kansas, and Ernie's story of grit, determination and love of country.
Bring your copy of Marine, Public Servant, Kansan: The Life of Ernest Garcia to have it signed. Books will also be available for purchase.