Login to Request an Interlibrary Loan
To request an Interlibrary Loan Item, visit http://ill.lmlibrary.org.
You can do a search without logging in, but if you wish to request an item, you will need to login first.
Login at the top right corner of the screen using your Liberal Memorial Library card number and password.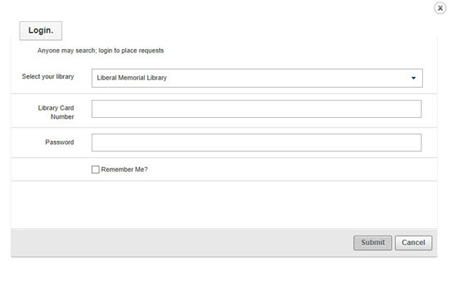 Click Submit after typing in your Library Card Number and Password.
If you are at your private home computer, you can choose to have it remember your account information by checking the Remember Me? box.
There will be an error message if your library card account is blocked for any reason or if your password is incorrect.(example – Unable to authenticate, it may due to incorrect CustomerId, LibraryCode, UserName or Password.)
Please see a staff member or call (620)626-0180 if you are having trouble logging in.
Search for and Request an item through Interlibrary Loan
After you have logged in, click on the search bar and type in what you are looking for. You can type all of or part of the title you want or search by author or subject.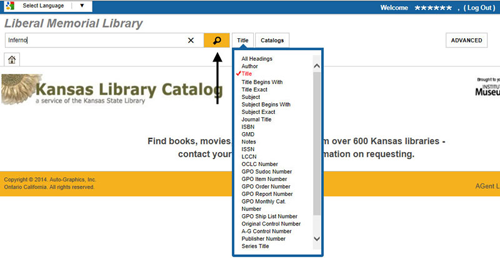 If you move your mouse over to Title beside the search bar, a drop down opens to let you choose to search by Author, Title, or Subject.
If you are searching by Title, then you can leave it as is.
Click on the yellow search button or hit enter to start your search.
If you are having trouble finding what you want, you can expand your search to more libraries.
If you move your mouse over Catalogs beside the search bar, you'll see a list of all the libraries that can be searched. A few of the most often used libraries are selected by default.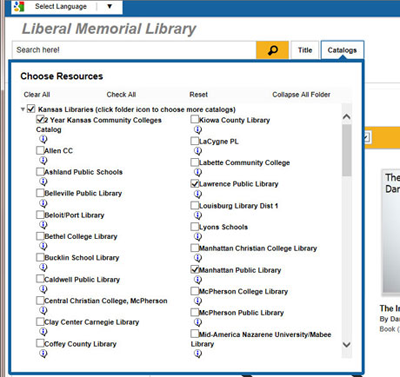 If you don't find what you're looking for the first time you search, you can go to Catalogs and click on the box next to Kansas Libraries. Then click on it again to select all Kansas Libraries. This will make your search take longer but will include all available libraries.
Type in what you're searching for again and hit enter or click the search button.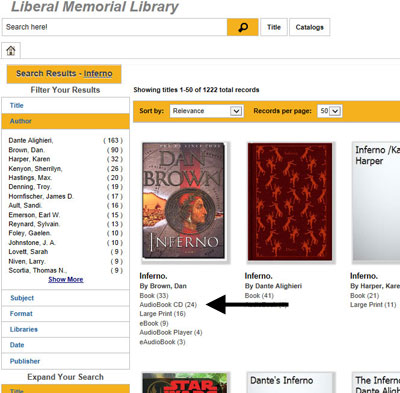 The results of our search show there are 24 copies of the audiobook I wish to Interlibrary Loan.
The results show all of the different versions available, book, audiobook, large print, etc.
Click on the words of the version you want.
There may be several entries listed. Choose the one with the most copies attached to increase your chances of receiving your item quickly.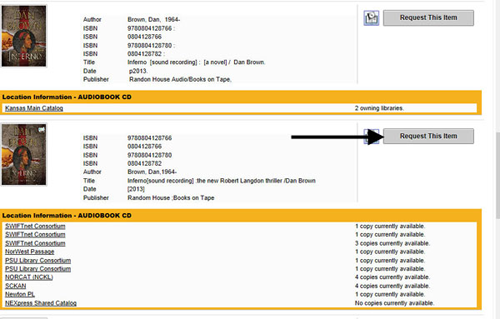 Click the Request This Item button to place your request or click on the book cover image to see more information before requesting.

Click Submit on the ILL Request Screen to complete your request. If you have an email address included in your library card patron record, an email will automatically be sent to you when the item you requested arrives.