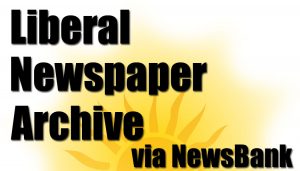 We now have access to archives of local newspapers through NewsBank.
Search the Liberal Newspapers (Southwest Daily Times and the Leader & Times) from 1999 – current. Find full-text articles on local news, issues, events, people and much more from current and archived issues. Includes obituaries, editorials, announcements, sports, real estate and other sections. Available from inside the library or from home using a special card you can pick up at the front desk.
The Leader and Times from 2008 to current
The Southwest Daily Times from 1999 through 2011
The archives include text but not images.
If you're looking for something older, we have microfilm copies of local newspapers from 1885 to 2010. Come in and ask about using our ViewScan microfilm scanner to print, save, or email old newspaper articles to yourself.