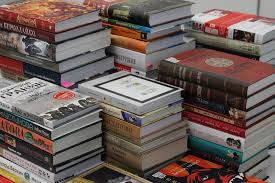 It's Book Sale time once again! The sale will be held October 17th – 20th during regular library hours.
Books will sell for $1.00 each on Tuesday and Wednesday.
On Thursday everything will be 1/2 price.
Everything that's left on Friday will be free.
Monday evening, October 16th from 6 pm – 8 pm, will be the Book Sale reception for Friends of the Library and Library Board members only.
Sign up to become a Friend of the Library today.
Funds from the Book Sale go to the Friends to help support library programs including Baby's Bookshelf, Budding Bookworms, Summer Reading Program, etc.