Books and Literature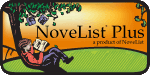 NoveList: Explore authors or a specific book to discover read-a-like recommendations, book discussion guides, reviews, and more.
---
Bloom's Literature: Everything you need to research authors, works, characters, topics, and themes—plus tips on how to write about them
---
Sage Knowledge: Premier social science eBook platform, where you will find an expansive range of SAGE eBook and eReference content
---
Literary Reference Center: Browse and search full-text of literary works alongside journal articles, author biographies, and reviews.
---
Kansas Library Catalog: Search materials held at libraries across Kansas. If you have any trouble requesting an Interlibrary Loan, visit our instruction page or call the library, 620-626-0180, for help.

---
Talking Books Catalog: Books, magazines and other materials available to qualified patrons through the Talking Books Program.
---
WorldCat (OCLC): Catalog of library holdings worldwide. If you wish to request an Interlibrary Loan for an item but can't get it through the Kansas Library Catalog, we can send the request through WorldCat.