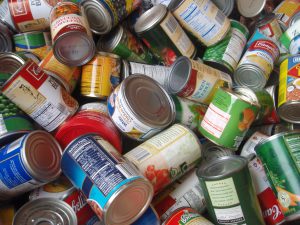 Fine Forgiveness For Goods!
It is season for giving and forgiving!
We will be helping Stepping Stone Shelter again this year. They can most be helped by the list below:
1) Toiletries: toothbrushes, toothpaste, soap, shampoo, conditioner, toilet paper, etc.
2) Sundries: portable dried foods, dehydrated snacks, etc.
3) Foods: canned goods, dried goods (pasta, rice, boxed foods, etc)
4) Items to make the season bright: disadvantaged people receive many necessary items, but sometimes a few 'extras' are nice as well, especially around the holidays; chocolate, instant pudding, soda etc.
Everything should be non-perishable. Most people helped by Stepping Stone are adults. Items should be new, unopened and unused. 
During the week of Dec. 14th-19th, if you bring back your overdue items (in good condition)
along with one of the items listed above, your fines will be waived. This works with existing fines as well as fines for overdue items. We want you to come back to the library and we want to help our neighbors!
And even if you have no fines, we hope you will consider donating to help others in our community.