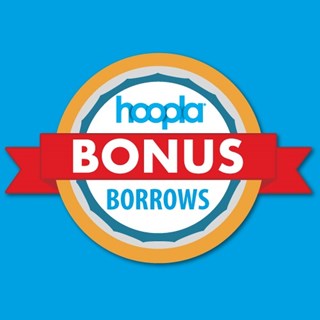 hoopla is offering Bonus Borrows during the month of May. Select from hundreds of titles that won't count toward your monthly borrowing limit.
How it works:
When a library patron borrows a Bonus Borrows title:
That circulation is FREE to our library.
You will be debited ZERO borrows from your monthly hoopla borrows.
In addition to these titles, you will also continue to have access to hoopla's Instant collection of over 950,000 eBooks, audiobooks, movies, TV shows, music, comics, and more using your usual four item borrow limit.
To access the titles from the hoopla Digital app or website:
From the search bar
Go to the search bar and start typing the words "Bonus Borrows". You should see a list Bonus Borrows categories.
By browsing Collections:
click "Browse" and then select the format you would like (Audiobooks, Movies, Music, Comics, eBooks, Television).
Select "Genres and Collections."
Choose "See All Collections" to see all of the different collections.
Select a Bonus Borrows collection to see all of the items in that collection.