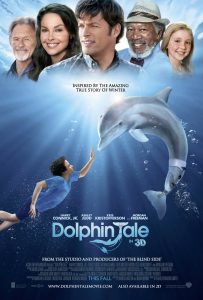 On Thursday, June 23rd at 4:30 pm, come to the library and enjoy a movie and free popcorn! This will be part of our Oceans of Possibilities Summer Reading Program.
Based on a true story, this live action family movie stars Harry Connick Jr., Ashley Judd, and Morgan Freeman.
While swimming free in the ocean, a young dolphin gets caught in a trap and severely damages her tail. Though she is rescued, her tail cannot be saved, and the prognosis is dire. What the dolphin needs is a miracle. She gets that miracle in the form of a marine biologist , a prosthetics designer, and a devoted boy, who find a way to help her swim again.