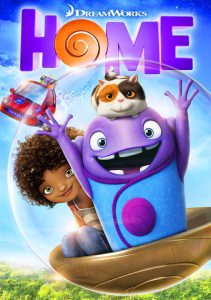 Everyone is invited to watch a fun animated movie with us on Monday, July 15th at 4:30 pm. We will be showing "Home", a film produced by DreamWorks Animation in 2015.
An alien race known as the Boov invade Earth and make it theirs.
A misfit Boov named Oh accidentally invites everyone (including Gorg, the world destroying alien they are all hiding from) to a party at his new house on Earth!
Oh and a human girl named Tip must try to stop Gorg before it's too late.
When: Monday, July 15 at 4:30 pm.
Where: In the downstairs activity area
We will bring the popcorn and you can bring the soda!