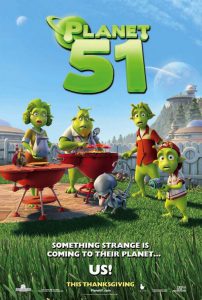 Come see a fun animated movie with us on Monday, July 22nd at 4:30 pm. We will be watching "Planet 51, which was made in 2009 and stars Dwayne Johnson, Jessica Biel, Justin Long, and Gary Oldman.
Astronaut Chuck Baker lands on what he thinks is an uninhabited alien planet, only to discover that he has accidentally invaded an alien civilization. Baker must avoid capture and get back to his ship before it goes into orbit without him.
We will bring the popcorn and you can bring the soda!