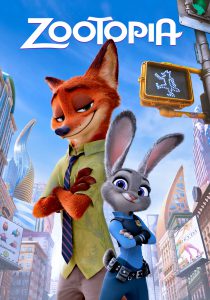 Watch this animated family friendly movie with us on Thursday, June 17th at 4:30 pm.
From the largest elephant to the smallest shrew, the city is a mammal metropolis where various animals live and thrive.
When Judy Hopps becomes the first rabbit to join the police force, she is determined to prove herself by solving the case of a mysterious disappearance. She ends up partnered with a red fox named Nick Wilde, a small-time hustler who reluctantly helps her.
We'll provide popcorn and drinks or you can bring your own drinks.