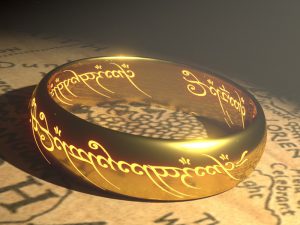 Monday, Sept. 17th – Scavenger Hunt – We are kicking off Tolkien week with an all day scavenger hunt in the library. Ask the front desk for the scavenger hunt riddle list. Complete the entire list and win a 3D printed Tolkien themed prize!
Tuesday, Sept. 18th at 5 pm – Sword/Shield Decorating – On day 2 of Tolkien week, celebrate by decorating your own shield and/or sword. They will be made out of cardboard and all supplies will be provided. This event is open to all ages!
Wednesday, Sept. 19th – Trivia – On day 3 of Tolkien Week will have an all day "The Hobbit" specific trivia contest. Trivia pages will be available at the circulation desk just come by and ask! Prizes will be awarded for different grade groups!
Thursday, Sept. 20th at 5 pm – Baggins Bingo – On day 4 of Tolkien Week play "Baggins Bingo"! Each of the squares has a familiar face or location in Tolkien's stories. Open to all ages and 3D printed Tolkien themed prizes will be available for the winner!
Friday, Sept. 21st – On day 5 of Tolkien Week have fun with themed cross words, word searches and coloring pages!
Saturday, Sept. 22nd at Noon – Hobbit Day – celebrate Bilbo and Frodo's birthday with us with a viewing of The Fellowship of the Ring movie along with other fun activities and snacks.