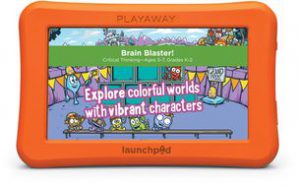 The library is taking part in a brand new program brought to us by the Kansas State Library, the Kansas Floating Playaway Launchpad collection.
What is a Playaway Launchpad?
The first-ever secure, pre-loaded learning tablet created just for kids.
Launchpad delivers ad-free learning apps grouped together by subject area, theme, grade level and age. The apps are pre-loaded onto each tablet, providing hours of interactive learning and play.
Each library has been issued one Launchpad to start out with. Our library is starting out with Brain Blaster! Critical Thinking-Ages 5-7, Grades K-2.
If you want to give the Launchpad a try, ask for it at the Circulation desk. If it's already checked out, you can place a reserve on it.
Visit the Kans State Library website to see a full list of the different Launchpads that will be available through Interlibrary loan for checkout.