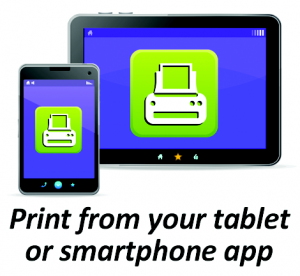 How to print from a tablet or smartphone using the app:
Install and launch PrinterOn.
Tap "No printer selected" at the bottom of the screen.
Select Search  and search for LIBERAL MEMORIAL LIBRARY,
Find and select the printer you want (1 – Black and White Printer, 2 – Color Printer, etc.).
Print from inside the app:

Documents: open the app, click on "Documents" and select a document to print.
Photos from your phone: open the app, click on "Photos" and select a photo to print.
Website: open the app, click on "Web" and enter a website address to print. Select the printer icon in the top right corner of the screen

You can also print from outside the app by sharing  your Document or Photo to the PrinterOn app.
Print from your internet browser on your tablet or smartphone – Print from Chrome by selecting the three dots on the right of the screen and select Share. Then choose PrinterOn.
Now you have the options to Cancel or Print. Select Print.
Enter your email address and select OK (you will receive a notice that the job started, and shortly after another message stating "Job Success").
Pick up your print job at the library within 48 hours. After 48 hours your print job will no longer be available.
Your print job will be printed!