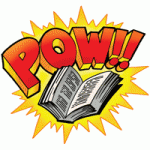 Kapow!
It's time to sign up for summer reading!  This year the theme is all about super heroes – both the comic book type and the local type.
Kids from birth to grade 6 can sign up for the program at the link below or at the library
https://lmlibrary.org/kids/summerreading/
It's free and all children can participate!
For more information, stop by the library or call 626-0180