2017 Adult Summer Reading Program
Registration and Reading
Registration: May
Program Dates: June 1st through July 21st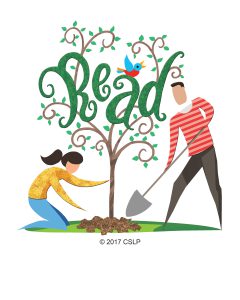 During the month of May, you can sign-up for Summer Reading online or pick up a paper signup sheet at the Circulation Desk.
Fill out a drawing slip for every book that you read from one of the categories on the bingo card. You can also fill out a slip just for signing up. Every Friday we will have a weekly prize drawing.
In addition to turning in a weekly prize drawing slip, you can also turn in your Bingo card with a bingo by Noon on July 28th to be entered into the Grand Prize drawing.
Each time you read a book from one of the categories on the bingo card, bring your card in to get an employee to initial that spot. Attending an Adult Summer Reading program allows you to get any spot initialed. Audiobooks, ebooks, and print books all count toward your bingo and drawing slips.
Questions? Call (620) 626-0180 and ask for Royce.
---
Thank you to the Friends of the Liberal Memorial Library for supporting this year's Adult Summer Reading program.