Enjoy coffee, tea, conversation, and the relaxing art of decorating smooth river stones.
An easy and beautiful craft to take home and enjoy year-round! Older teens and college age adults welcome.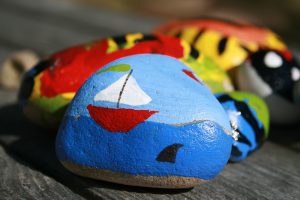 The event and supplies are absolutely FREE!
Please register for the noon session or the 6:00 p.m. session on our website  or ask at the front desk.
Where: In the downstairs activity area.
When: Wednesday, June 15th at noon and Thursday, June 16 at 6:00 p.m.
Coffee provided by Spencer Browne's Coffee House