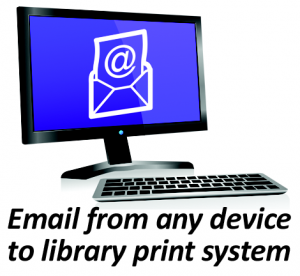 How to use email to send something directly to library print system:
Email from any device directly to the library's print system at
Forward an existing message to the printer's email address or create a new message and attach anything you wish to print to that message. Be sure to include something in the subject line to avoid getting an error message.
The body of your email message and any attachments will be sent as separate print jobs. You can choose to print only the attachments if you wish.
Pick up your print jobs at the library within 48 hours. After 48 hours your print job will no longer be available.
Your print job will be printed!