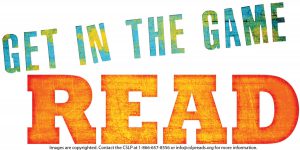 Turn in your reading logs before Wednesday, July 27th to qualify for prizes.
Did you get 25 points? Collect your first prize!
Did you get 50 points? Register to order your T-shirt!
Get more than 50 points? Each point is an entry into our end-of-summer drawing. Win a fabulous prize!
Teens, talk to Tammy or Elizabeth to get your prizes and enter the end-of-summer drawing.